VR in Architecture: Event roundup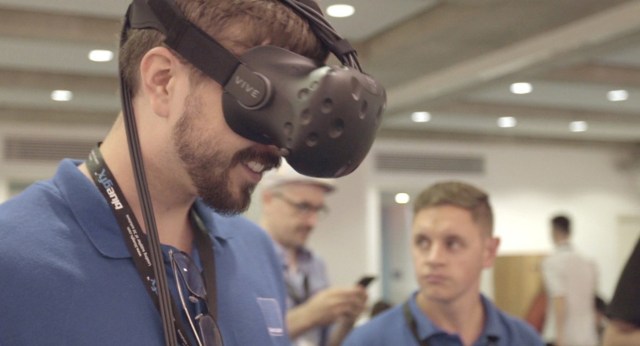 On 20th July we held our VR in Architecture Event at the Coin Street Centre, and are thrilled with the turn out and feedback that we've had.
VR is undoubtedly changing the way we approach visualisation and experiential marketing, and naturally lends itself to architecture where a fully immersive experience is key to properly understanding the building or space.
We invited some industry wizards – including VR specialists and experts in creating interactive architectural presentations – to come and share some knowledge with a like-minded audience. We had VR headsets to play with and technology demonstrations for 3ds Max and games engine Stingray.
We were overwhelmed with the response we had – not only the amount of people who registered, but the genuine level of energy at the event (despite it being the hottest day of the year!). So here's a roundup of talks, general going's on, and the all-important product links.
VR in architecture: A Bluegfx production
An overview of the afternoon. If you have any questions about the event please don't hesitate to email info@bluegfx.com.
An interview with Oliver Kibblewhite, Rewind
REWIND is a creative agency and digital production studio who specialise in VR and the creative production behind unforgettable experiential events. Oliver chats about VR, 3ds Max and REWIND's great relationship with bluegfx.
Stingray for Design Visualisation: Jamie Gwilliam, Autodesk
Stingray is Autodesk's 3D game engine and real-time rendering software. Use the Stingray engine to create 3D games, real-time design visualizations, and stunning virtual reality experiences. Stingray connects directly to Autodesk 3D animation tools.
VR in Architecture: Oliver Kibblewhite, Rewind
REWIND have worked on VR production projects for a number of high-profile clients, including a virtual tour for Savills, giving users a guided tour of a multi-million pound mansion with an additional option to explore the property for themselves.
Sergio Irigoyen, Neutral Digital
Neutral Digital bring together 2D, 3D and advanced VR elements to create engaging experiences across different media – from immersive 360º videos for architects to user interfaces for the world's leading airlines.
Buy 3ds Max, V-Ray For 3ds Max and Stingray
Buy 3D modelling, rendering and animation software 3ds Max
Buy lighting, shading, and rendering toolkit V-Ray for 3ds Max
A huge thank you to our sponsors: Autodesk, Chaos Group and AMD.
Get in touch
Call us on +353 (0)1 526 6717 or email sales@bluegfx.eu