3 months of free Corona with annual subscriptions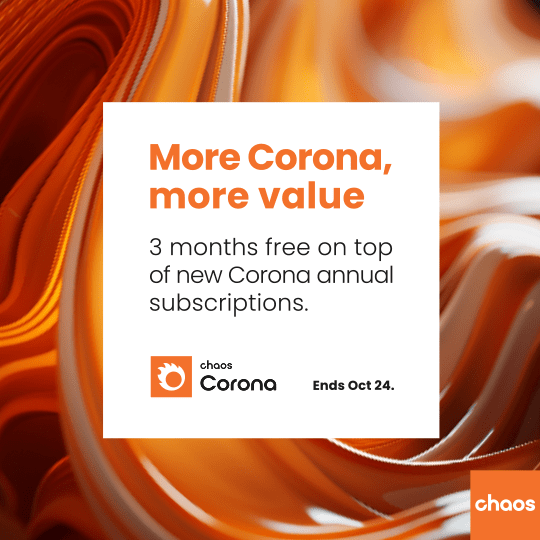 Thinking about getting a Corona subscription? Now's the perfect time! Buy a new annual Corona license from October 9 — 24, and benefit from an extra three months absolutely free.
More time
Use these three extra months to take on more projects, safe in the knowledge that you'll have more time to work on them. Or, dive deep into Corona's incredible feature set and build your expertise. And your bank balance will be a little happier that renewal reminder will come three months later.
All the benefits of an annual license
There's never been a better time to get Corona. Take out a Solo subscription, and you'll get access to Chaos Cosmos, with over 4,500 assets, including 3D models, materials, and HDRIs to use in your projects.
Why stop there?
Treat yourself to a Premium subscription, and you'll also get Chaos Phoenix so you can unleash spectacular fluid sims, Chaos Scans for complex materials such as holographic foil, and Chaos Player for straightforward video and image-sequence editing and more features to boost your creativity.
Offer ends October 24.
For more info, visit our Corona product page.
Get in touch
For more information please contact our sales team on +353 (0)1 526 6717 or email sales@bluegfx.eu