VUE
The most complete toolset for CG environments.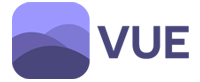 VUE is the only environment package on the market that includes everything you need for creating beautiful CG environments.
From skies and volumetric clouds to terrains, large-scale EcoSystems, wind-swept vegetation, open water bodies, roads and rocks: everything is right there for you to use out of the box.
Setup and render your project in VUE or use the powerful integration plugins in the Professional & Enterprise versions for creating, exporting and converting entire scenes for rendering in other applications and render engines.
Manufactured by e-on
Workflow improvements in the VUE Function Editor
Create intermit or vast natural looking landscape and environmental phenomena. This solution offers a huge range of tools and atmospheric control.