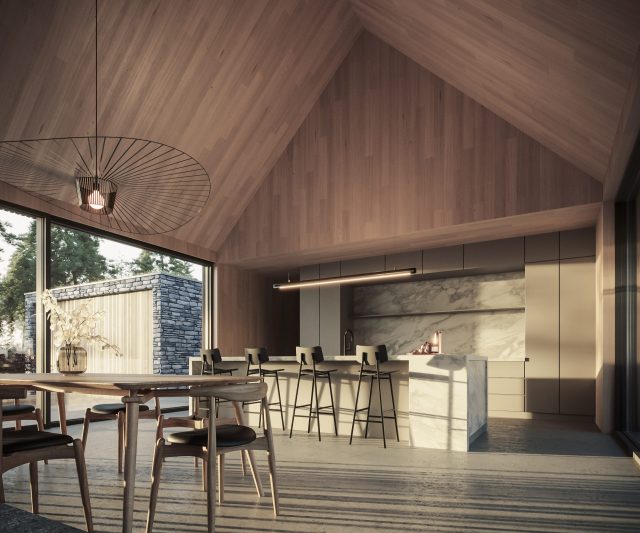 Touch3D is a visualisation company who creates high-quality images and animations through Computer Generated Imagery (CGI).
Touch3D specialises in architectural visualisation, including animation and product design, allowing clients to bring their designs to life with photorealistic imagery; using the exact materials, finishes and landscaping planned for the building.
Visualisation is also used to assist architects and their clients with their decision-making process, preventing expensive mistakes before the building stage.
Touch3D relies on up-to-date software and hardware to provide clients with a high-quality product, within tight deadlines.
Grant Watson started Touch3D in 2002 and from the very beginning trusted Bluegfx with their software, hardware, and support service requirements.
Initially, Matt supplied them with their first Autodesk 3ds Max software as well as iToo software's Forest Pack Pro and V-Ray from Chaos. Twenty years on, Touch3D are still choosing to work collaboratively with Bluegfx for their IT infrastructure and support.
The Challenge
One of Touch3D's loyal clients (Brown + Brown Architects) got in touch with them about a project that was a high-end development (Kings Cairn, Archerfield), and the brief was to provide high-quality architectural visualisations to help support a potentially contentious planning application.
It was also a large development that required visualisations for architectural design verification, facilitating client engagement and design approval, and supporting their expectations throughout the design process.
The design detailing had to be created to a very high level, including the exact proportions, material finishes, and surrounding landscaping, as well as the use of volumetric elements to help enhance atmosphere, etc.
Solution
Bluegfx provided us not only with our WS Workstation Graphics workstations and associated storage but also all our Autodesk software (3dsMax) and specialist plug-ins.
We first got in touch with Bluegfx back in 2002 when we started out, and they have always been there with the right products, knowledge, and support.
Benefit
3ds Max provides us with the correct tools to interface with architect outputs, such as SketchUp files, FBX outputs from ArchiCAD and other BIM software, and allows us to convert, adapt, optimise, and evolve our visuals as quickly as possible.
The balance of hardware and software allows us to recreate detailed landscapes (Forest Pack Pro), accurately handle complex lighting models, atmospherics, and then render in a timely manner.
As a result, our clients can explore design options, i.e., compositions, material choices, lighting conditions, etc., quicker, and more realistically.
Results
The building visualisations were very well received by Touch3D's client, Brown & Brown, and their client. The project successfully gained planning permission and managing the client's expectation throughout the entire process was exceeded.
In 2021 Touch3D entered the Scottish Design Awards with this project (Kings Cairn, Archerfield) and won the visualisation category.
To read more about Touch3D and their amazing work, please visit their website here.

Contact us

Can we help to optimise your workflow? Call us for a chat on +353 (0)1 526 6717 or email sales@bluegfx.eu.