How Autodesk helps Jellyfish Pictures stay ahead of the pack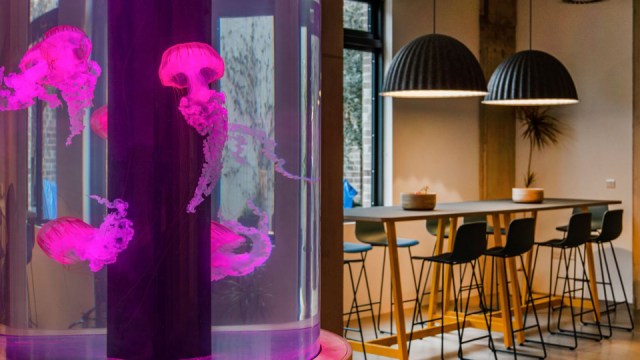 Jellyfish Pictures has evolved from a two-man band back in 2001 into one of the most respected visual effects and animation studios in the world. It employs more than 300 people and has a track record of working on feature films like 'Star Wars: The Last Jedi', and animated series like 'Dennis and Gnasher: Unleashed'. It has won a string of EMMY, BAFTA and VES awards for its work.
Despite its exciting past, Jellyfish has its sights set firmly on the future. The business is growing fast. It now runs one studio in Sheffield and three in London, including a new purpose-built state-of-the-art facility in Brixton. To support its growth and ongoing success, Jellyfish needs to be original, innovative and extremely high-end – and so its choice of 3D modelling, animation and rendering software is crucial. In line with this, it has based its whole approach around solutions from Autodesk, long established as a global leader in media and entertainment software.
Jellyfish uses multiple different Autodesk software solutions to carry out its visual effects work. It uses Autodesk Maya for 3D modelling animation. Typically, that involves character generation, which includes modelling the character and then lighting and animating that model. Jellyfish currently has between 80-100 licences of Maya.
It uses Autodesk Arnold for rendering, including the final effects, finished lighting, and look and feel. Jellyfish has also deployed Autodesk's 3D character animation software, MotionBuilder, which it uses for virtual cinematography, motion capture, and traditional keyframe animation and Mudbox for digital painting and sculpting alongside other digital content creation applications. The last piece in the jigsaw is Autodesk Shotgun, a digital asset management tool that everyone from producers to art directors, CEOs and animators at Jellyfish can use for storing assets and getting sign off and approval. Jellyfish has around 300 licences of Shotgun today.
A rich and varied portfolio
Jeremy Smith, chief technology officer, Jellyfish Studios, said: "At Jellyfish, we do very varied visual effects work, taking in everything from the latest Star Wars movies to Watchmen for HBO to animated television series for children and motion graphics work for large corporates, so we need software that delivers a potent combination of versatility and flexibility. The Autodesk visual effects software supported by Blue Graphics (Bluegfx) fits the bill in this respect.
All three solutions are supplied to Jellyfish and supported by Autodesk reseller, Bluegfx, which also delivers consultancy on how Jellyfish can optimise its use of the software. "We have been very impressed with the service we have received from Bluegfx," added Smith. "They are very consultative and relationship-driven. They take the pain away from everyday administration and have had a key role to play in helping us get the answers we need when we have queries about the software."
Margins are tight in the visual effects and animation industries, so for a company like Jellyfish, software solutions do not only have to support creativity, they also need to deliver speed and performance improvements that translate to the bottom line. The Autodesk software solutions and Maya, in particular, drive productivity by enabling designers to create visual effects more quickly and efficiently.
An industry standard
Also, key is the fact that the Autodesk software solutions are widely used across the industry. Jellyfish is expanding fast. It has taken on many new designers on a permanent basis but also brought in freelancers as and when required. Autodesk tools are widely used across the industry and Maya in particular has rapidly established itself as an industry standard with a vast base of freelancers trained and proficient on it. That means Jellyfish does not have to spend time getting new designers up and running on the software and can get them up to speed quickly.
Jellyfish has also with the help of Bluegfx taken advantage of Autodesk's collection suites which consist of bundled packages of key software, typically featuring multiple licences of Maya and Arnold, which are therefore more cost-effective and convenient to bring into the organisation.
Jellyfish has benefited from getting access to the resource pool around specific Autodesk solutions. It has worked closely with the Arnold team at Autodesk, for example, to get high-speed graphics card (GPU) rendering working in conjunction with more standard central processing unit (CPU) rendering. It has also been impressed with the way that Maya integrates with other aspects of the pipeline.
Thanks to the work done by Bluegfx, Jellyfish has a good understanding of how the software is evolving and what new functionality is likely to come on stream over time. Pixar's Universal Scene Description also known as USD, is taking the 3D world by storm. Autodesk Maya is already using USD and its use within Maya is likely to evolve further over time.
Full speed ahead
Looking to the future, Jellyfish is optimistic that Autodesk will continue to focus on ease of integration. "It is great for us that Autodesk has introduced a new Substance 2.0 plug-in in its 2020 release of Maya, for example," said Smith. "We are delighted that Autodesk is recognising the importance of making these kinds of connections and helping to build that bridge between the independent software vendors (ISVs).
"Moreover, while the latest version of Arnold with Arnold GPU is already simplifying how users create and iterate content, the speed of iteration will accelerate further thanks to the integration with Maya."
Today, with more content than ever before being commissioned and created, the future for Jellyfish looks increasingly busy and bright. In addition to the Hollywood movies and television animation work coming up, Jellyfish is also creating more of its own high-quality content. This is no time for Jellyfish to rest on its laurels and as it moves forward, Autodesk digital content creation and rendering tools are likely to play a vital role in its future vision.
---
Contact us
Call us on +353 (0)1 526 6717 or email sales@bluegfx.eu