Bluegfx: One stop for The CharacterShop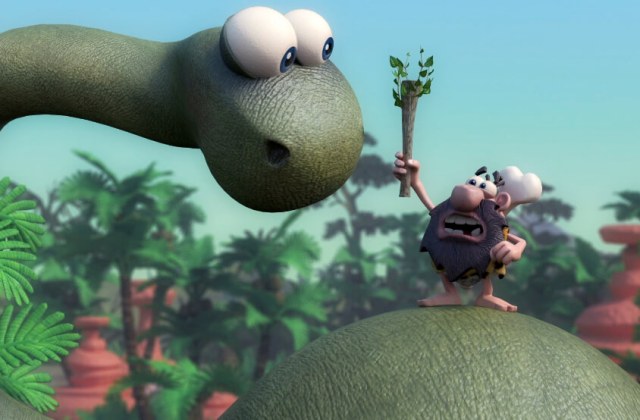 The CharacterShop are an award-winning, character-mad team of artists who specialise in animation, content creation and digital effects production for TV series, commercials, and a whole lot more.
We're proud to have been a part of their journey having worked with them for over 10 years, supplying them with the specialist 3D production technology required to bring their characters to life, as well as essential support with their IT infrastructure.
Going for gold
The CharacterShop have a Gold Service Level Agreement with Bluegfx which means they received a complementary site audit from our tech team who fully understand the workflow of a 3D production studio like theirs. Following this we set up the IT for their entire animation pipeline so they could manage their data quickly and efficiently. This included all internal equipment such as switches, networking, rendering and Synology storage.
We also supply The CharacterShop with 3D modelling and animation software 3DS Max, CPU and GPU workstations and graphic cards, render nodes and Hair: Farm plug-in.
The switch to Redshift
Redshift rendering is hot right now and The CharacterShop recently made the shift to the GPU renderer for faster rendering times. We discussed Redshift with them as an alternative GPU-renderer to use with Hair: Farm, and following a period of testing and evaluation with fellow character animators' Blue Zoo they were so impressed they decided to make the jump.
We had heard and read a lot about Redshift and decided to get in touch with Bluegfx for some advice, particularly as we had a new project in the pipeline requiring fur that was proving problematic with our previous rendering set-up. To help us make an informed decision Bluegfx put us in touch with Blue Zoo who had already made the switch to Redshift. It was really helpful and reassuring to discuss the move with fellow character animators and after a few initial tests we decided to take the plunge.
The results have been amazing, we estimate that render times have decreased by 4 to 5 times, but in addition to that the rendering is more consistent. Excessive rendering times for tasks such as ray tracing, sub surface scattering and of course fur lead to us avoiding those features historically, where as they can now be confidently tackled due to the improved rendering times allowing for improved creativity and its enabling us to really push the software's capabilities.
The support offered by Redshift has also been great, they are very supportive, friendly and helpful, making the whole process of switching our rendering software over very straightforward and we are now solely using Redshift for all our rendering.
The only consideration is the initial software and hardware investment but with the increase in rendering capability and the fact that one Redshift license can also support more than one graphics card on each computer, we know the change over will quickly pay for itself
Mark Vale, MD & Producer, The CharacterShop.
Furry friends
With their shiny new, efficient workflow and IT set-up, The CharacterShop have been working on the new Bush Baby World series, which stars the lovable, and very furry Bush Babies and their magical friends in photo realistic CGI. The first webisodes will be released in the summer.
Why not check out some of their other work on The Character Shop's portfolio at thecharactershop.com.
Contact us
If you would like an overhaul of your IT infrastructure, or simply some advice and guidance, please don't hesitate to call our super knowledgeable sales team on +353 (0)1 526 6717 or email sales@bluegfx.eu